Variovolant
When the fixed Volant no longer fulfils the requirements for low standing sunlight, the Vario Volant is the screen of choice. This vertical-roll volant repels the light of the setting summer sun and the blinding winter sun. The volant can be manually unwound up to 1.5 meters. All lengths and shapes are available. Also available in Soltis fabric. (Transparent cloth that is also used for Screens).
Electric terrace heater
When the sun no longer warms your patio you can rely on our electric terrace heater. This modern, high efficiency terrace heater, allows you to enjoy the cooler summer evenings on your terrace. The dimmer function is used to set the desired temperature. (this can also be integrated into a single remote control).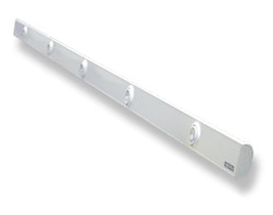 Lighting terrace
This stylish lighting element (5 x 20W spotlights) means you don't have to worry when night falls and it gets darker. You can continue to enjoy your terrace without being forced to go inside due to lack of light. (can also be integrated into a single remote control).
Wide-up side screens
This side screen keeps sun and wind from the sides at bay as well as keeping prying eyes away from your terrace. By using the hand-grip the screen can be vertically unwound up to 4 meters. Metal springs ensure that the cloth is always held under tension. Elegant design and a choice of all fabric colours.
Plissehordeur, Mosquito netting
In hot weather we usually open our doors and windows to allow a fresh breeze to cool our house. Annoying insects are not welcome. Alpha offers a wide range of mosquito netting. This forms the showpiece, functional and virtually indestructible. (also suitable for sliding windows)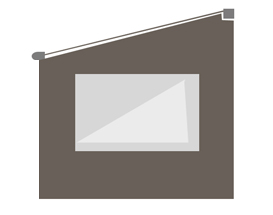 Side screens
To reduce lateral light awnings can be fitted with side screens.
Shutter
All our products can be fitted with motors and automata. Do you want your shutter to come down at a fixed time? Or do you want the awning to roll up when there's an unexpected gust of wind?Somfy hi-tech automata provide custom solutions for every situation. Existing awnings and shutters can also be fitted with these motors and automata.
Motors
We use Somfy motors for the automation of all our products. Various motor sizes are available depending on the size and span of the awning or shutter. Somfy motors are known for their durability and long life.
Control
Awning operation is done with a simple touch of a button. Both wall and remote control are available. The MY button allows you to program and save your preferences. The control can also be equipped with a timer function for optimum comfort.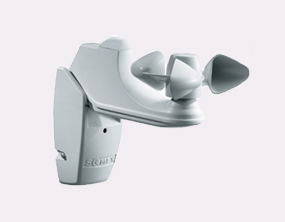 Automatic wind-sun
Somfy automata can control your blinds depending on the weather. The small wind mill is equipped with a sun sensor, and when a certain intensity is measured, the blinds go down automatically. When a sudden gust of wind picks up, the sunscreen, safely rolls back up. Thus, even when you are not present, it will never get too hot inside.
Autonomous sensors
Somfy also has several autonomous sensors. These sensors require no wiring. The EOLIS 3D is a wind detector, a rectangular box located in the front profile of the awning. The SUNIS is a sunlight detector. This can be placed on the outside wall/façade without the need for wiring. This machine generates its own energy from sunlight.